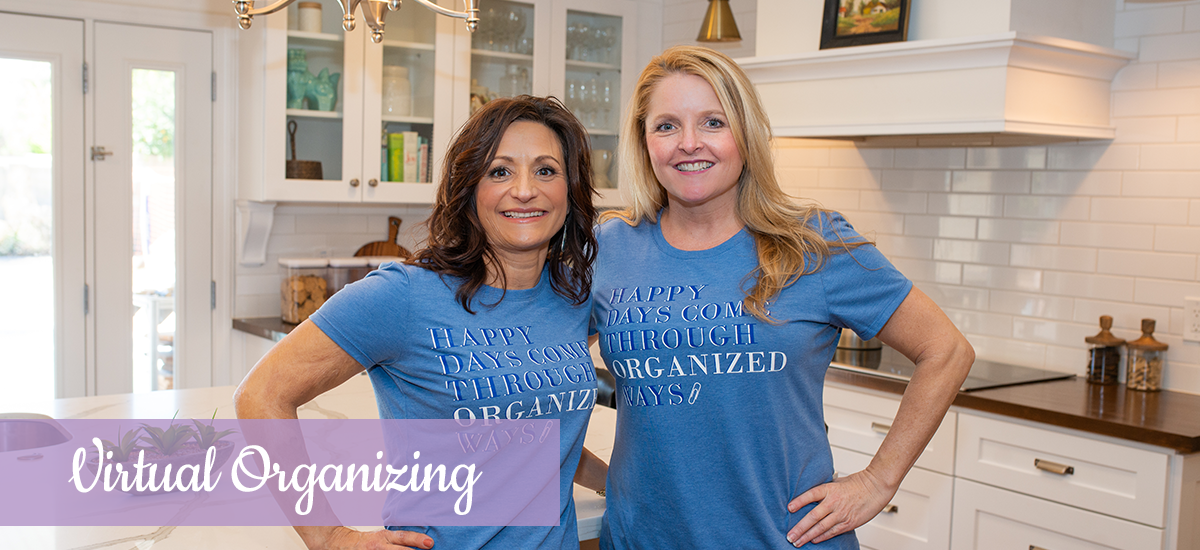 Control
 Your 

Clutter 

While

 Quarantined
Have a handful of organizing projects or a few hundred? We are here to help!
Avoid senseless circles of frustration and get a fresh pair of expert eyes on your challenged space.
Receive step-by-step coaching, products, and placement ALL within your budget.
A Virtual Organizing Service is perfect for those with areas that need organizing systems, but don't know where to start or how to complete them.
You share your top frustrations about your space, and we work alongside you virtually to transform it.
Here's how it works:
Simply snap and 

share photos from your phone and email directly to us.

We will study your space, your inventory, and discuss the possible organizing solutions to overcome it.

During our Virtual Coaching Session (via Facetime or Zoom) we'll power through your challenged space, make mindful decisions and together we'll transform your vision

according to YOUR personal style and budget.
Results are immediate, sessions are affordable, and the experience is FUN!
Schedule your initial FREE 30-minute consult to learn more at: https://bookme.name/WurthOrganizing
organizing skills are life skills
Ready to untangle the clutter and learn healthier daily habits? Let us assist you in creating organized solutions for your home, family and personal life.
We all get into a styling rut ( being busy moms, working, managing life) and it's nice to have a professional eye pull together looks you would never think of and help you wear new looks that work for your individual taste and body shape. We all need that friend! I loved that I finally was…
Getting ready for a move after living in our house 35 yrs was too much for me to wrap my head around. Too much stuff? What to keep? What to throw away? What to donate?  Where to start? Danielle Wurth immediately heard my concern and took the pressure off by making a plan.  She and…
"Danielle's workshop was so helpful in helping me identify my own struggles with staying organized. The day after the workshop I felt so encouraged and energized that I went home and tackled my out of control paper pile (I am a typical pile maker). I am happy to say that I have continued to monitor where…
"What an amazing night at the workshop. You were wonderful. I could see you gave us everything you have in your arsenal against disorder. Last night I came home so inspired. I went to my guest bathroom and organized the medicine cabinet which was a mess. It took 10 minutes. This morning before starting to…
"Moving into a house that was half the square footage was an easy enough transition for me, however organizing certain rooms was not.  One of my 'bones of contention' was laundry.  After attending Danielle's organizing workshop and personal sessions, there were many moments of laughter and had a system ready to be put into place.…
I just wanted to THANK YOU so much for your work thus far in my home. My daughter Maddy had such a great time working with you on organizing her room…she isn't so open with just anyone! 🙂  Every time I walk into her room, I feel like a huge weight is lifted off my…
"I am the mother of three and recently started a nonprofit organization out of my home. I share the office with my husband who is not "organizationally inclined". The room was a complete disaster until the day Danielle came over and started using her magic! The room was a cluttered, disorganized nightmare of papers, toys…
"I am an active mother of two young children. I have always had the desire to be organized, but didn't know how to start or what products to buy.  Danielle made sure she understood my needs. My Kitchen Pantry was so chaotic you couldn't walk thru it. It's now a beautifully organized, highly functional space.…
"I am a busy mother and dentist who needs to stay organized. In less than one hour working with Danielle, my Master Bedroom Closet was transformed from absolute disarray to an orderly, functional and aesthetically pleasing room in our home. This unmanageable and daunting task actually became enjoyable with her help. She had a vision…