It is good for our soul to gather outside. However, that fire in excitement can quickly fizzle out by the time we round up all the gear needed to enjoy a fresh meal hot off the grill. All too frustrating!
Efficiency is everything in the kitchen whether that be cooking indoors or out. Here's a few of my efficiency favorites which can make a difference at your next outdoor gathering:
Gather your Gear: Time to round it all up…from your favorite gloves to tongs and basting set. You will quickly realize what core items you are missing and/or need replacing so mark it on your next online shopping list.
Smart Store Solutions: Now that your gear is gathered, finding a place to store it all can be challenging since the long-extended handles store awkwardly in traditional kitchen drawers. Here are some alternatives to consider:
Metal Tray: First roll up and rubber band your cooking apron. Secondly, store with all your BBQ cooking gear and on a metal cookie tray or grill basket which is then stored inside the BBQ. Try something new such as these slick mesh nonstick grill sheets sold from Kitchen Kapers. The nonstick PTFE fabric sheet rests on your grill grates keeping foods like shrimp, bacon, and wings in place as you grill while the intricate design allows all the smokiness of the grill to flow right through, infusing your food with flavor. It is important to put everything back promptly once the grill is cleaned and cooled off. When you are ready to grill again simply open the lid to find your gear is round up and ready to go. Bam!
Storage Zip Bag – If your concerned about literally smoking your gear vs. your meal by forgetting it was stored there then consider placing it all in one large storage bag. The Hefty® Brand hefty.com Jumbo Storage Slider Bags measure 14 x 16 therefore ideal to slide both the tray and your grill gear making transfers easy when moving from inside to out and back again. Your BBQ tools will be kept clean from other outdoor surfaces while you cook which makes for easier clean up post grill time.
The Classic Caddy: There are some organizing solutions you can never own too many and caddies are one of them. Make sure this classic go-getter has a handle so little ones can lend a helping hand and my reasons why… Select something that represents your overall entertainment whether be rustic wooden or modern galvanized
and suggest buying 3. Having a series in the same style will offer a nice cohesive look to not only your grill area, but your serving and your dining table alike.
Caddies keep all 3 surface areas tidy during times of visiting guests and reduces messy clean up post party time. Loving this one by Oasis® sold through HomeDepot® which blends both galvanized style and wooden handle.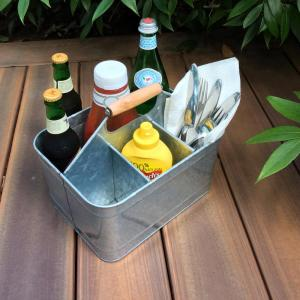 Keep things looking not only organized, but efficient is always a party time plus when serving both little eaters and big eaters alike.
Utensil Caddy – Store your serving ware utensils, napkins for guests
Condiment Caddy – From ketchup, mustard, and BBQ and hot sauces.
Grilling Caddy – Place all your grill seasonings and sauce bottles on one side in the back sections and place cups in the front to use for basting brushes or grill tools. Loving this one made from Artland® sold by Macy's®. Once done grilling store all your favorite go to spices in the caddy and back on the pantry shelf.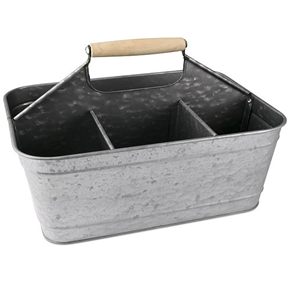 Make it Noteworthy – Maybe you discovered a new grilling method to cooking your meats or an interesting seasoning combo you would like to remember. Have a small index card or flip pad and pen handy is better than saucing up the screen on your smartphone. Perhaps a visiting guest shared a favorite tip and was something worth noting before the idea goes up in smoke! From grill timings, seasonings and settings …all important things to help you on the order of things to remember. Slide notes into a Ziploc or plastic protective sleeve and place in your grill gear bag or caddy. You will be grateful (and surprised) when you find it on your next meal prep time.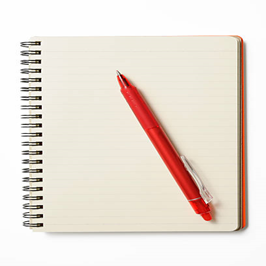 Hope these clever outdoor cooking tips motivate you to move off the sofa and get you grillin' and chillin' in the fresh outdoors more often!
About the Author: Danielle Wurth is a Professional Organizer, Speaker, Author and Owner of Wurth Organizing.com, a Professional Organizing Company who has transformed families using her psyche-based approach to live a clutter-free lifestyle since 2007. She and her crew of gurus are honored to be the only Exclusive Brand Partner for the Container Store in Metro Phoenix and Contributor to HGTV Magazine The List TV Show, InRecovery Magazine, Real Simple Magazine, Fox 10 News and Ch 3 Good Morning Arizona. Danielle currently lives in Scottsdale, AZ with her handsome hubby and 2 sons who she loves cheering for as their soccer mom.