My office is my happy place. It is where I crank out client calls, paper craft to destress and assist my boys with their school projects. Although the walls are filled with team pictures, past media and my logo, I realized it was missing something which connected it all together. It is my company tag line … "Happy Days Come Through Organized Ways". Not only do clients comment how it makes them smile every time to hear it, but it is also is what keeps our organizing work for them so memorable.  With that being said, I thought it was only fitting to print the tagline on a fine quality canvas from Collage.com. Being a biz owner by day and soccer mom by night, I found the website and navigation options uber easy to follow while dashing between events. I was also surprised in knowing I had 3 frame options: wrapped canvas, standard frame and a modern floating option. It got me thinking (and kindly distracted ?) what other projects I may consider in the future. Hummm…before I knew it, ding-dong goes my doorbell and my canvas arrives. At first, I noticed the color vibrancy and secondly, how tightly wrapped the canvas edges were finished.  Over the years, I have worked in many client homes where their canvas prints were poorly finished leaving bumpy edges, so never truly laid flat on the wall.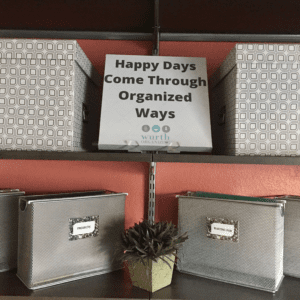 Although I rested mine prominently on a plate stand, it is nice to know Collage.com installed not only 1, but 2 metal hanger backings with swivel hinges to accommodate a variety of surfaces or hanging options. As a Professional Organizer, I am a details-type-of-girl so having that quality and versatility really matters to me. As the bustling holidays are fast approaching, it is now time for myself, my family and my team be reminded how this heart felt, yet happy tagline has motivated countless client families move beyond the mayhem, hit the "do over button" and thrive in a simpler, healthier home life.
Want to create something memorable this holiday season and get a jumpstart on your gift giving? Collage.com is currently offering mega deals up to 90% off all during Cyber Week. Done…Check…and Slap a bow on this one!
Danielle Wurth is a Professional Organizer, Speaker and Owner of wurthorganizing.com. Professional Organizing Company who has transformed families using her psyche-based approach to live a clutter free lifestyle with hands on organizing sessions and speaking events in Scottsdale, AZ since 2007. She is honored to be the only Exclusive Brand Partner for the Container Store in Metro Phoenix and Contributor to HGTV Magazine, Real Simple Magazine, Fox 10 News and Ch 3 Good Morning Arizona. Her organizing books will launch in Spring 2019! wurthorganizing.com/602-579-5274/ [email protected]
Get motivated and moving your organizing projects fast forward by following Danielle and her Wurth Organizing gurus on social:

facebook.com/wurth.organizing/

 instagram.com/wurthorganizing/?ref=badge

twitter.com/wurthorganizing/